I live and work in the world of the physical. I have done this my whole adult life. I really don't know any different.
I recently heard a statement, "If you can achieve physical mastery, it is the key to reaching all other goals in life."
This resonated with me. I actually went back and listened to it again. This is the gospel truth.
There are many different ways to achieve physical mastery. It could be getting as lean as possible for a photo shoot or physique competition.
Or it could be climbing a mountain for the first time, competing in a triathlon or tough mudder or simply no longer settling to be a couch potato. It is different for everyone. There is no one way, but it is no longer settling for less than your best.
Some people may be saying it is money or being the best mother or their spirituality that is the most important goal to attain in life.
I call bullshit on that. Why? Cause I can and I will.
Let me address the spirituality first. If you have no body, you can't be spiritual….duh. I love it when someone 50 pounds overweight starts spouting off about, "it's not about the outside; it's what's on the inside."
Really? You're most likely going to die from heart disease, diabetes or cancer. Give me a break. There is nothing spiritual about that if you can't climb a flight of stairs, chase your kids, or get up off the floor.
Money? Do you know how many wealthy people have shown up at my door in the past 20 years looking to salvage what they have left physically? Every single one of them would trade their wealth for health, no exception. They spent their adult lives building wealth at the expense of their health and usually their relationships as well, and for what?
Mothers? This is easy. You can't be the best mother if you're tired, overweight, eat crap and feel like crap. It's that simple. This is where the "I" has to come before the "WE," so you can be the best mother you can.
Physical mastery is the key to your best life.
Anybody can achieve this goal. I believe it is THE GOAL. It is the gateway to success in all areas of the rest of your life.
Start today. Don't put it off any longer.
If you want to learn from other high performance people, click the link below and listen to my new podcast.
https://itunes.apple.com/us/podcast/high-performance-living-online/id641698765?mt=2
The podcast consists of interviews with some very high performance coaches and individuals who give you strategies to implement your plan right away.
No one wants to hear the truth!
If you come to our studio, we have posters on all the windows of before/after pictures of our past and present clients (we have many more who just are not on posters). You can look on this site to see some of what I am talking about.
A lady walks in and points to one of the poster and says, "I know her" (an awesome before/after) and says, "So what did she do? Take a shake?" while pointing to our display case.
I was actually speechless for about 5 seconds and stumbled over my words, which is not like me because I have been doing this a long time.
After I composed myself I said, "No, she worked out here and followed our fitness and nutrition programs." She then gave me a quizzical look like, "No, really, what did she do?"
I then asked her if she worked out. She "spins" 5 days a week.
I then tried to offer her our jumpstart program where she could try out exactly what it is we do to get results, like the girl on the poster. Nope. Not interested. Wanted to instead talk about the protein powder in the display case.
Long story short, she didn't buy the protein or try out our training programs, yet she knew someone personally who got great results with us and recommends us.
Why? Well, I don't know exactly, but based on the way she acted, there could be a couple reasons:
1. She thinks the way to results is found in some magic pill or shake, not through proper training and nutrition (with all the MLM's out there touting this right now, I get it).
2. She doesn't believe in training and thinks cardio is the way to go.
3. She thinks her nutrition and training is "perfect."
For #1, this is simply looking for the easy way out. She would rather take a pill or shake than do the work. Also, she doesn't believe it's possible that proper nutrition or working out will obtain the results she is looking for. It's a sad reason, as we have SOCIAL PROOF showing her the exact opposite.
I have talked about #2 enough in the past for anyone reading this blog regularly to know that strength training and metabolic training is where it is at for fat loss. Cardio is down the list for results.
#3 is the funniest one and I am hedging my bets that this is the real reason. I cannot tell you the number of times in my career someone has come to me who has a significant amount of weight/fat to lose, coming to me for help with this goal no less, and the first words out of their mouth is, "My nutrition is great. I eat very healthy." Or, "I know what to eat" or "my workout program is great."
My response?
How's that working for you?
Next response.…Maybe you don't know how to eat or workout. Did that ever cross your mind? Because if you did, we wouldn't be speaking right now.
Then one of two things happens: one – they leave, which is fine. They were not going to listen to me anyway. Or two – they sit down, shut up and say, "You're right. What do I need to do?"
And then they get results…..that simple.
Don't go looking for the magic pill or workout; it doesn't exist.
Get on the right plan and see it through, knowing that results won't happen overnight or in a week.
If you want a jumpstart, scroll to the top of this post and sign up on the right-hand side for a free rapid fat loss starter pack (video workout, nutrition plan, recipe guide) to get moving on your path to success.
That is great news!
Too many people actually think they can't lose fat, but guess what? It is absolutely possible for anybody to reach a fitness goal – lose weight, lose fat, gain muscle, whatever.
It's astonishing how many people don't start a workout plan or change their nutrition simply because they think it won't work, it's too hard.
I am here to tell you I have seen time and time again people with less than good genetics, a hectic life, stress, you name it, reach their goal.
How did they do it?
The secret was in their mindset.
I know, I know. You want to hear the secret supplement or workout, but nope. Their minds made the difference.
Once you decide this is it, I will meet this goal, it happens. Period.
It seems so simple, and it is.
Once you "burn the boats," which is a metaphor for no turning back, it happens. A long time ago the Spanish were invading a land and their general made them burn the boats so they knew they had to defeat their enemy; there was no turning back. They would either take the land or die. How is that for motivation?
So once you burn your boats and there is no turning back, you will be amazed at what happens.
So make up your mind and reach your goal!
In the next blog we will be talking about actual strategies for your nutrition and fitness.
If you want a jumpstart, scroll to the top of this post and sign up on the right-hand side for a free rapid fat loss starter pack (video workout, nutrition plan, recipe guide) to get moving on your path to success.
A Post About The Standard American Diet and It's Effects on Health & Weight Loss by a FFC Friend, Fellow Trainer & Functional Diagnostic Nutrition Practitioner -Janell Yule ( BS, CPT, FMS )
"Would you call your diet extreme?  Probably, not.  But if you eat the typical American diet, commonly called S.A.D. (Standard American Diet), you are eating an extreme diet in terms of the impact that it has on your health.  Since this diet is so normal in American society, it can be very difficult to see it as out of the ordinary at all.  After all, it's just what we eat, right?
Yes, it is, but the ordinary is making us sick.
What you eat impacts your health in profound ways.  After all, your body can only draw from what you feed it.  If you feed it optimally, it will function optimally.  But if you feed it poorly, it has no choice but to function poorly.  A poorly functioning body is a body that is unhealthy and sick.
And it is no longer just Americans who are affected by this diet.  As Western influence permeates other parts of the world, it takes our diet with it.  And as it does, once robustly healthy populations now experience the same sickness that Americans are known for.  In fact, the farther these cultures move from their traditional diets toward the Standard American Diet, the sicker they become.
Dr. John McDougall, author of The McDougall Plan, experienced this firsthand when he started practicing medicine in Hawaii.  He noticed that the first and second generation Asian Americans were slim and healthy and were rarely afflicted with the typical Western diseases that plague our country.  However, once these people adopted American eating habits, they began suffering from the chronic ailments that are so commonplace, such as diabetes, heart disease and obesity.  The third and fourth generations were the ones getting sick!1
What is the S.A.D. diet?
The Standard American Diet is typically characterized by the following:2
High in animal fats
High in unhealthy fats: saturated, hydrogenated
Low in fiber
High in processed foods and refined flours
High in refined sugars
Low in complex carbohydrates and whole grains
Low in plant-based foods
Practically, this works out in your diet in the form of cereals, pastas, meat, packaged and processed foods, dessert foods such as cakes and cookies, and fried foods and dairy foods. The reason this is called "standard" is because it is simply what nearly everyone eats.  In fact if you do not eat this way, you are probably called a 'health nut!'
What are the consequences of eating the typical American diet?
You may be surprised to learn what the effects of eating a S.A.D. diet are, because they are the very conditions that we have learned to associate with 'normal' aging.  These include heart disease, diabetes, cancer, obesity, high blood pressure, brain-fog, headaches, low energy, bloating and gas, constipation, diarrhea and even dementia and Alzheimer's Disease.
If you are like many people, you may not have even considered that most of these conditions have a cause other than aging.  Likewise, you may not realize that in many cases they have a cure and certainly can often be prevented.
The answer?  Detoxing your body and feeding it what it needs for optimal health.
What is Detoxing?
After years of feeding our body the toxic foods that is so typical in our culture, it is important to cleanse our system and decrease the inflammation and stress that we have placed it under.  Of course, toxins don't come just from the food that we eat.  We breathe them in (through air pollution), and we rub them on our skin (through personal care products that contain harsh chemicals and additives).
The good news is that through detoxification, we can lighten the toxic load that our bodies are under.  This is done naturally, without the use of medications which would further stress our bodies."
- Janell Yule, BS, CPT, FDN
P.S. If you would like to learn more about detoxing and elimination dieting for health, check out Florida Fitness Coaches  21-Detox Challenge.  
Sources:
1 The China Study, by T. Colin Campbell.  P. 330.
Image Credit: http://highenergyforlife.com/articlelist/34-general-health/99-treat-your-liver-with-love-improve-your-energy-memory-and-more
Commitment.
Sticking with it.
Seeing it through.
These are all words or phrases associated with success.
It amazes me that people show up in the beginning with the best intentions, but somewhere along the line, don't see it through. They are fired up for a bit but usually fall back into old habits, and working out falls to the wayside and healthy eating is no longer on the radar.
We see this a lot. I am here to tell you it does not have to be this way. You can fit in work, family, and all the other curve balls life throws at you and still be healthy and fit. (more…)
The above quote has been used countless times, and I am sure some of you have heard this before, but it bears repeating because most people either don't believe it's true or forget.
When working with clients I can always tell who is going to get to their goals and who isn't.
The person who is determined and believes it's possible always gets to their goal.
The person who is there because they have a goal and know they should eat right and work out, but somewhere deep inside doesn't think it's possible to lose weight or reach their goal, always has a challenge getting there.
This is common among people looking to change their health and fitness. They focus on every reason why it's not possible.
I have talked a lot about the mindset and psychology behind fitness success in the last couple blogs and this one sums it up.
You really can't accomplish anything if secretly on the inside you don't think it's possible.
This is tough to overcome when we have a mindset that is negative or doubtful of what we can accomplish.
Let's look at a couple solutions to helping you overcome your doubts. (more…)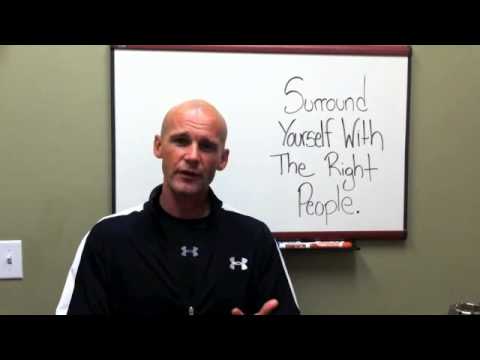 If your goal is to get healthy and lose fat, it's really important to be around people who are supportive of you in that journey. We are the average of the 5 people we spend the most time with. If you are spending your time with people who have no interest in health and fitness, it will be a lot harder for you to stick with your plan. It will be much easier to stick to your plan if you surround yourself with people who have the same goals.
Add positive people to your life to help keep you on track. Take inventory of who you're spending your time with and get around supportive people who will help you achieve your goals.
If you are interested in gaining more information about this topic, or have any other fitness related inquiries, please contact us at 239-596-6200.
There is a saying in sports that you play to the level of your competition. This means that if the team you're playing stinks, you will not go out and compete at your best; you may win, but you don't play great. The exact opposite of that is when you're playing the best team out there and it brings your level of play up.
This brings us to "level up." When we are making changes in our health and fitness we need to get around people that bring us up, not down. Most likely your current peer group eats like crap, doesn't work out and lives for happy hour. If your goal is to improve your health or lose weight, how supportive are those people going to be? You know the answer.
There are a few ways to do this: (more…)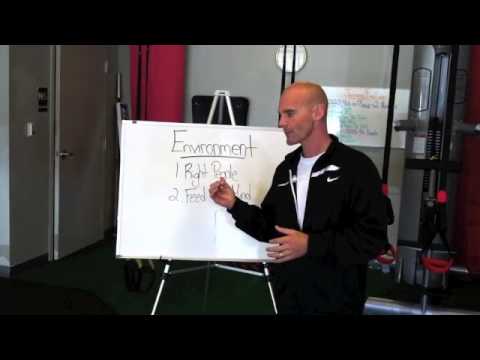 Your environment plays a huge role in your ability to reach your health and fitness goals. You should surround yourself with the right people…positive people who have a healthy mindset and have the same goals as you. You also need to feed your mind with the right information. Instead of listening to all the negative messages you are bombarded with each day, focus on daily positive messages to keep yourself on track.
If you are interested in gaining more information about this topic, or have any other fitness related inquiries, please contact us at 239-596-6200.
It is the New Year and the number one goal we hear right now is, "what is the best way to lose fat?"
I have written before that there is "no best way" but there are things you can do to put you on the right track. There is no magic pill or workouts to get you to lose fat, but there are principles that will do it.
One other point to remember is that losing fat is simple, but I didn't say it was easy. (more…)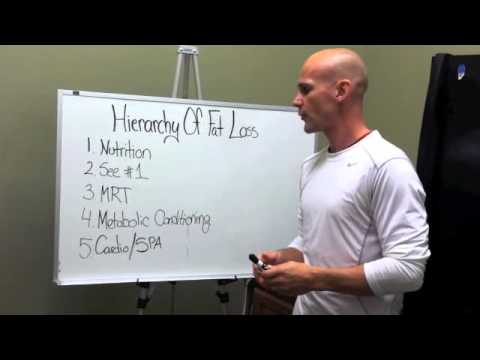 The Hierarchy of Fat Loss details the various health and fitness tools which must be implemented to successfully achieve weight loss goals. This hierarchy places a good Nutrition Plan as the number one essential tool towards achieving weight loss, with Metabolic Resistance Training as the second priority, Metabolic Conditioning as the third priority, and Cardio/Spontaneous Physical Activity as final and smallest piece to the puzzle.
If you are interested in gaining more information about this topic, or have any other fitness related inquiries, please contact us at 239-596-6200.
This is the million dollar question everyone wants answered. My answer may surprise you.
Here it is, wait for it…..there isn't one. Yep that is my answer.
Alright so I am messing with you a little bit. I will get into what workouts work best for fat loss. However, the reason I said that there isn't one, is because, it is not about the "workouts", but more about your healthy HABITS that you have in place. (more…)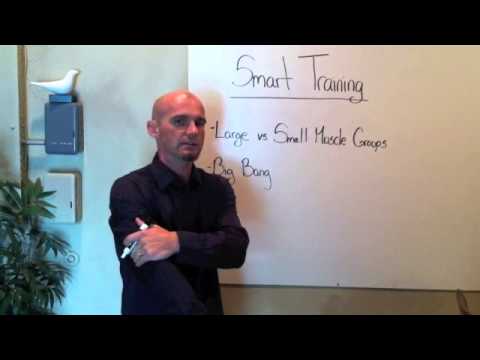 Target larger muscle groups, as opposed to smaller ones, to maximize your training. "Big bang" exercises (i.e. squats, presses, pulls, dead lifts) will work smaller muscle groups as well. By working more muscle groups at a time, you are getting more bang for your buck. Go after large muscle groups first and you will burn more calories, build more muscle, and lose more fat.
If you are interested in gaining more information about this topic, or have any other fitness related inquiries, please contact us at 239-596-6200.
Even though we preach and preach about the benefits of strength training, we still run into the, "I don't want to be big and bulky." Believe it or not, even some men come and say, "I'm not looking to be a bodybuilder"…in which case I hold in a big laugh, as they have no idea or clue what it takes to put on that kind of muscle.
So by now, if you have been following this, you should understand the benefits of a properly designed strength program is you losing fat and staying lean.
Let me give you a couple examples of clients (women) who throw around some heavy weights and are the leanest in our health club. (more…)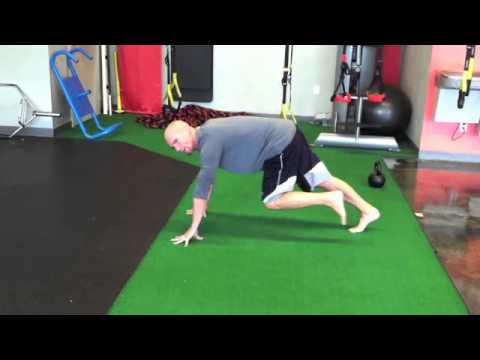 Proper form is essential to get the most out of your workouts in the gym. It is better to go slower or use less weight and have proper form with each exercise than it is to do more or lift heavier. Use the appropriate level for your current physical condition. You will get better results and suffer fewer injuries.
If you are interested in gaining more information about this topic, or have any other fitness related inquiries, please contact us at 239-596-6200.
I have written about this subject before, but it merits more education apparently.
I don't know too many people who wouldn't like to have abs or at least a flat stomach.  Having said that, 80% of people go about it the WRONG way.
The first part of this discussion is usually the part that everyone ignores completely.  Proper nutrition is step one. Doing 150 crunches or 1000 planks will not do anything if you have a crappy nutrition plan.
Before I continue, re-read the above paragraph. Too many people simply ignore this and will ask me, "What is the best exercise for my abs?" My answer? The best exercise is the "push away from the dinner table." Doesn't always go over too well, but for anyone who knows me, I will not give you a line about the best new sexy ab crunch that just came out. (more…)
How do you approach your workouts? Do you do it with a small focus or a big focus?
When people start to design a strength program, they think in terms of small. What does that mean? I know, it sounds crazy.
When we are designing programs for our fat loss clients or even our performance clients, 90% of the time we take a whole body strength training approach.
Why? Well, for us it is about results, but I will go a bit further. When we design programs there has to be a systematic approach to it regardless of what you are programming for, but what we want to do is set you up with the biggest bang for the buck. (more…)
When we program for fat loss or performance at our club we talk a lot about periodized programs. There are many different methods and definitions of this but for our purposes we will keep it simple.
Below is a quick definition:
Periodization is an organized approach to training that involves progressive cycling of various aspects of a training program during a specific period of time. The roots of periodization come from Hans Selye's model, known as the General Adaptation Syndrome, which has been used by the athletic community since the late 1950s (Fleck, 1999). Selye identified a source of biological stress referred to as eustress, which denotes beneficial muscular strength and growth, and a distress state, which is stress that can lead to tissue damage, disease, and death. Periodization is most widely used in resistance program design to avoid over-training and to systematically alternate high loads of training with decreased loading phases to improve components of muscular fitness (e.g. strength, strength-speed, and strength-endurance).
Christopher C. Frankel and Len Kravitz, Ph.D.
Technical stuff I know but if we break it down it is really simply about progressing your training program to continually force the body to adapt to the stimulus you are providing it. It is imperative when designing a training program we do it for the right reasons.
Let me give you 2 quick examples of what we see. (more…)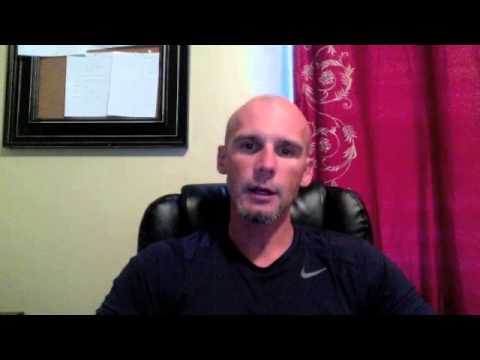 Strength training is an essential tool for achieving Fat Loss, and should be the number one priority in any Fat Loss program.  However, most individuals striving for Fat Loss almost immediately default to countless hours of cardio exercise.  Strength Training creates stronger muscles, which increases metabolism, and ultimately achieve greater success in Fat Loss.
If you are interested in gaining more information about this topic, or have any other fitness related inquiries, please contact us at 239-596-6200
80% of the people who join a FFC join to lose or maintain weight loss.  The main questions are:
a. What ab exercises should I do?
 b. How much cardio do I do?
 c. How much time do I spend at the gym?
The real answer is d, None of the above things really have a bearing on weight loss, singularly.  You know what Damon always says "You can't outwork poor nutrition".
So lets talk about a, "What ab exercises should I do" no matter how many crunches or planks you do, ab exercises do not help with weight loss.  No matter what crazy contraption you see on t.v. and what those crazy models say, the twisty chair thing is not going to really give you a six pack in 3 weeks of 10 minutes a day.  In real reality, those people changed their DIET. Period. End of infomercial.
Ok let's address b, cardiovascular exercise is very important.  Its important to get your body moving and your blood pumping and get out of your chair!  One of the most popular forms of exercise people do is walk.  Walking is great exercise if we are talking about staying healthy, not in terms of weight loss.  One of the things people say is "I walk x amount of miles per day and I just can't get the weight off".  Our awesome bodies ADAPT that's what we were born to do! Once you have walked your trail or loop or whatever it is that you do your body gets used to the distance the speed and it starts to be ready for the movement, and so nicely you adapt and don't burn as many calories performing the exercise.  Same goes for 45 minutes on the elliptical or treadmill or whatever it is that people do for years and years, same speed, same, same, same, with the same, same, same result, which is looking the same, same, same.
Letter c, finally, some good news people!  You do not have to spend 3 hours a day 7 days a week at the gym to get results!  YEY!   Have a plan so you don't get caught talking or staring at the t.v. or just milling around doing 400 sets of biceps and calves.  Also, short bursts of high intensity work is great for your burn!  You can get a good interval training workout in in 30-45 minutes (Just ask our bootcampers!).  It's fun and effective!
Letter d today is brought to your by the dreaded word, diet.  Diet in this instance does not refer to slashing your calories or starving yourself.  This means what you put in your body everyday.  It is my belief that we can have our cake and eat it too!  Not the whole cake, though!  Its really important to put healthy stuff in your body.  Be aware of what you are eating.  I suggest (for your most everyday life) organic grass fed meat, organic chickens that weren't penned up their whole life and grown without beaks or whatever science experiment they are doing on food these days to make life "cheaper".  I also suggest vegetables, the more raw the better and yummy healthy fruit.  I would keep the grains to a minimum, opting for whole grains and small quantities.
Now you read my bracketed disclaimer (for your most everyday life), everyday is not your MOST everyday!  Somedays it's your birthday, or the weekend, or your vacation somedays are AWESOME DAYS!  Most of the time we know when these awesome days are going to be!  I definitely suggest planning on having some fun AT LEAST once a week, that does not include when you are at the gym having fun, it does include eating fun stuff.  Fun stuff that's worth it, ever gotten something at the coffee shop that looked yummy, but is stale and tasteless?  Just not worth it.  (My advice, no matter how much you spent, throw it AWAY! Save the calories for something better.)
If you love pizza, HAVE it!  If it's your birthday I say "Let you eat cake!" If its your vacation..enjoy and come to grips with the practice of moderation or be prepared to pay the piper and get back on track (with some extra baggage) when you return.
Its what we always say, its about habits, but its not about feeling sore, or starving or deprived, it IS about planning and being real. AMEN