Hey there!
We hope you had a GREAT Thanksgiving, enjoying good food, family, friends AND fun!
 While the FUN never really has to stop 🙂 , you DO need to get your food back on track if you haven't already.
The best way to make sure you're back on track is to PLAN. Even if just for the next couple weeks to get back in to a good "rhythm". Planning will also help prevent you from falling down the crappy food "holiday rabbit hole" between Thanksgiving and Christmas.
All you need to do is take 30-60 minutes to plan what you will have for your "main meals" during the week.
You don't have to get fancy here if you're not a superstar in the kitchen (which I am certainly not :-P) …Pick out your source of protein, what veggies you'll have along with it, and if you're going to have a carb with that meal make sure you note what kind.
I would also make a list of 3 to 5 healthy "go to snacks" you'll have in between meals to prevent impulse trips to the vending machine or candy jar at the receptionist's front desk.
Additionally, It's a good idea to really try to "clean up" your nutrition, and stay with as many fresh, whole food sources as possible. This is especially true after a big holiday filled with sugars/carbs galore, as your body could certainly use a break.
On that note, I often get the argument about how expensive it is to purchase organic, fresh, and unprocessed foods for the family, so I thought I'd snap a few pics of what I brought home from the grocery store yesterday. (Please excuse the mess/lack of organization here. These are real life "messy pics" I snapped real quick after pulling everything out of the bags. 🙂 )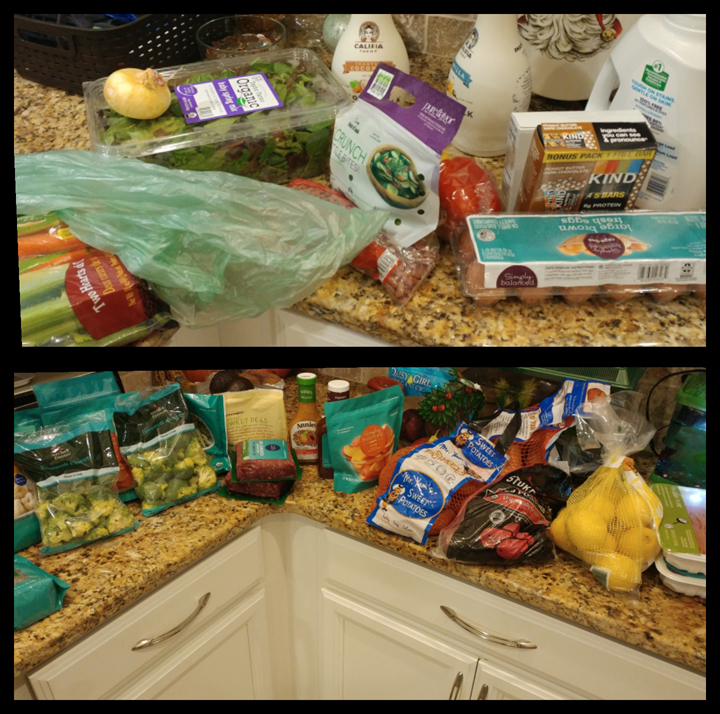 I purchased everything you see above (at Target) for under $140. This includes fresh meats (including grassfed beef and humanely raised/antibiotic free turkey), eggs, coconut & almond milk, lots of organic fruits and veggies (some we buy frozen for quick easy smoothies), organic salad greens, nuts, potatoes, rice/lentils, "emergency snack bars" and more for a family of 3 (well, 2 plus a toddler). Planning not only helps us stay healthy, but also keeps us in our "food budget". We never eat out during the week. Typically we only will eat out once on the weekends, so this will make ALL of our major meals and snacks (with the addition of protein powder we always have on hand).
My point here is not to brag about our "health food thriftiness", but to show you that with a little planning ahead you CAN eat healthy on a budget! The key here is the PLAN.
We're so boring with our food planning, I pretty much have my every move memorized in the grocery store. Simply rotating between a handful of meal options with minimal ingredients seems to work well in my house, but this is certainly not the "best" or "only" way. With our busy schedules and crazy house it just works, but you have to find the right plan that works for YOUR FAMILY!
If you need help getting back on track, or figuring out the best plan for YOUR house please let us know! We would be happy to help you get there! Respond to this email or call/text us at 239-596-6200!
Please let us know if you have any questions!
Mara
 PS: Check out our 30-Day Trial Membership Below!