So we are officially in the "heat" of holiday season – The MOST wonderful time of the year!!
Families gather from around the country (and beyond)…
Much needed vacation time from work…
Decorations, lights and holiday music everywhere you turn…
AND a "clean slate" headed our way with the New Year!
What's not to love?
How about the STRESS that comes with it?
I'm not trying to be a "Debby Downer" here…Increased stress during the holidays is actually extremely common!
Why?
Holiday gathering obligations…
Shopping…
Entertaining (then cleaning…then repeat)…
Budgeting…
Traveling…
Family (this can work both ways right? 😉 )…
SO much present wrapping…
And it never seems as if you have enough time, right?
It's hard enough during the holidays to keep focused on your health and fitness goals with holiday "treats" tempting you everywhere you turn (BUT with a proper PLAN it can be done!!)
However, STRESS can be the "silent assassin" sabotaging your weight loss goals if not addressed.
Stress can cause loss of sleep, increased Cortisol levels, and over-eating – AKA a "Recipe for Weight Gain Disaster".
Try out these 5 Tips to Help DE-STRESS and ENJOY your Holidays (and help keep your waistline trim)…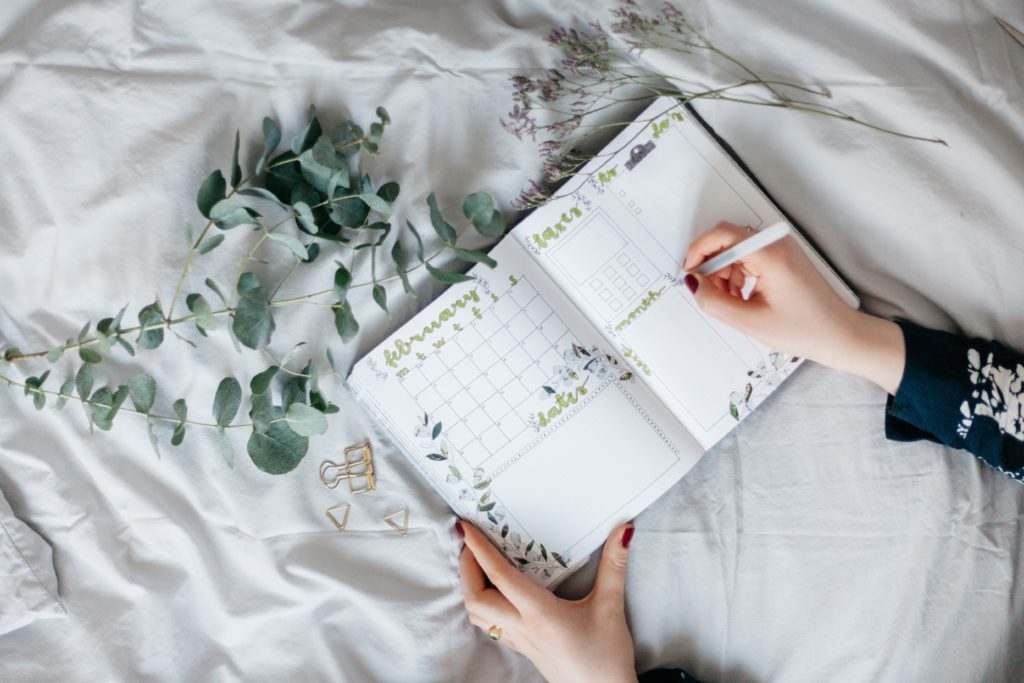 Make a List (and check it twice 😉 ).You will continue to feel over-whelmed when your "To-Do's" are constantly circulating your thoughts. Get them OFF your mind, and ON to a piece of paper so you can start checking them off.
Be a "Uni-Tasker" – Take on ONE task at a time from your list.Let yourself become totally consumed in that ONE activity and be PRESENT– (whether you are baking cookies, wrapping presents, or tackling the stores like a shopping machine.) Not only will you complete this task more efficiently (so you can then move on and conquer the next task), but you your will feel much less frazzled. You might even find you can enjoy MORE of your holiday tasks that you once dreaded tackling!
Exercise! – I'm sure this was a predictable tip coming from a personal trainer, however the science is proven! Exercise releases "feel good" endorphins, which are a MUCH healthier alternative to what most people turn towards for the same effect.Strength training, HIIT, yoga, cycling, running, sports, walking…Whatever it is that YOU do for exercise, you MUST not let "holiday duties" take over your active time!Your body and mind NEED it!
Say No! – Sometimes it's the thought of taking part in yearly holiday traditions which you are uncomfortable with (or simply cannot stand) that really stir up your stress levels. Before you set yourself up for another year dreading a toxic family get-together, or hosting an over-whelming Christmas dinner you don't want to …Ask yourself – Do I really HAVE to? Nobody has "control" over you. Maybe the answer is as simple as having a conversation to switch things up this year?
SLEEP! – Whatever you are staying up late for tonight to get done – CAN wait until tomorrow!You will be more efficient when you are well-rested, AND your stress levels will drop with a good night's sleep (anywhere between 6 and 9 hours!). Having a hard time falling asleep?Disconnect with ALL screens for the last 45 minutes to 1 hour before bed. Try implementing something more meditative to your pre-bedtime routine like belly breathing, gentle yoga, or even coloring!
I hope these tips help you to de-stress and ENJOY the rest of your holiday season!!
Be present – Make Memories – and Stay Healthy!!
Dedicated to your success,
Mara
(239) 596-6200
P.S. If you need help getting started with your fitness goals BEFORE 2020, but feeling overwhelmed with all of the options available…We offer a KILLER 30-Day Trial! (Click below)